Dani & the hot heads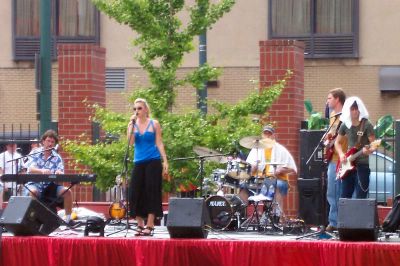 100 degrees+!!!!!!!
I thought last July 4th's gig was hot(95). Autozone park at 4:30 in the afternoon was killer.
Click on pic and you'll see the towels & the effects of it all. The mandolin wouldn't stay in tune so we skipped those tunes til after the game. Makes you want to invest in large umbrellas.
Still a cool gig though. No pun intended.
I've posted a couple of pics from Saturday's gig. It's listed in the photo album under "Memphis Redbirds".
We've got a new fan. Pay attention, the "Artist Formerly Known As Stick Boy" showed up.
AFKASB is on an adventure and will be posting pics soon.
Too much heat, huh. See ya soon.