Artist Formerly Known As Stickboy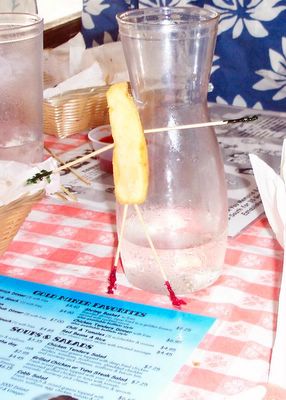 The "Artist Formerly Known As Stickboy" auditioned for a spot in the band. He quickly realized that he's merely a groupie. Still wanting to be a part of it all, AFKAS has vowed to follow us and be our most dedicated fan.
So the adventure begins. Seen here, during our Redbirds gig, AFKAS is deciding what to eat.
Question is, "where is he?" No clues for this one.
Pay careful attention, AFKAS does tricks, morphs and is an all-around thrill seeker.
He shows up in all shapes, colors and sizes.
You can leave your answers in "comments" or "gmail".
I will be keeping score, which implies there will be a winner?
So, "Where's AFKAS?"
Labels: AFKAS