Oh man, what a week-end! Had such a blast, I almost forgot the back pain. That's us pictured with Ron Kutter in the VIP tent after playing Saturday. On Friday, we ate some great gumbo brought in from
Lulu's
and on Saturday it was BBQ and boiled shrimp. What a treat!
We drove in on Friday and played an hour later, whew. Bushed, we didn't stay to hear alot of music, but met the band backing
Kim Carson
, The Casualties.
Checking into our condo for the week-end was a nice surprise. Found out we were on the 10th floor over looking the gulf. Needless to say, we all checked-out early for the night since we'd been on the road since 4am. The place was packed Saturday. We met the guys from Foxy Iguanas and
AFKAS
snuck in some pictures with the
Wes Loper Band
. Did you check out the
web cam
I mentioned earlier? Or even the pictures
Dave
posted along the way? Those are some candid shots. The one below with
Dani
was shot with his camera phone.
Gotta send some thanks out. Ginger Parnell, your crew really treated us great. Rick, thanks for getting us there and back in one piece and the daily devotions. And thanks to our roadie, Justin, who was a big help to the band. Zack you're the king of "6 degrees of separation".
Don't forget to visit the
photo album
. AFKAS was there too, and he has his own pics.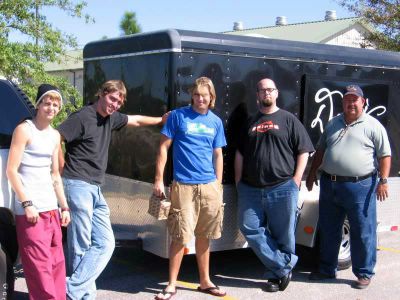 Labels: AFKAS, Band photos, Festivals, Road Trips